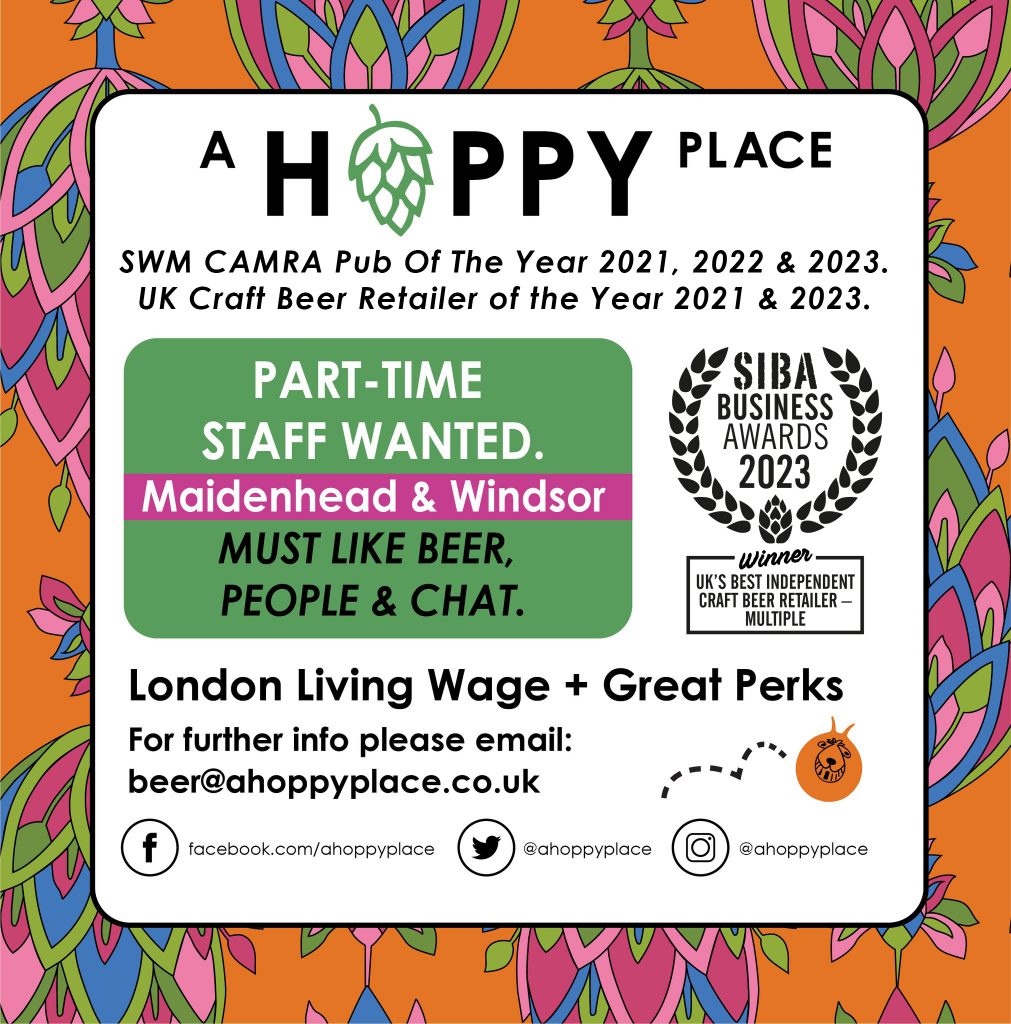 Join our small passionate team as a part time shift worker and: 
*Learn about craft beer, brewing, and dispense
*Meet loads of likeminded friends in our Windsor and new Maidenhead bottleshop and taprooms
*Earn the London Living wage or more, depending on experience
Applicants do not need to be beer experts, just willing to learn and with the right attitude.
Join us on the next step of our exciting journey as a business
FULL DETAILS BELOW
Apply now:
Email beer@ahoppyplace.co.uk
Full Role Description
A Hoppy Place are looking for part time shift workers for predominantly (but not limited to) Friday and Saturday cover
About us
A Hoppy Place are a fouryear old craft beer bottleshop and taproom with outlets in Windsor and Maidenhead.
We are three time CAMRA pub of the year for Slough, Windsor and Maidenhead as well as SIBA (The Society of Independent Brewers, who represent nearly 100 of the most craft forward UK breweries) Craft Beer Retailer of the Year for 2021, and 2023
We founded in 2019 with the goal to make our passion our career, and this hiring is the next step in a business plan to see us with multiple sites, with a target of 4+ sites and beyond.
We are looking to add to our family of staff, and are always open to this part time role for now potentially becoming permanent in future.
For us, beer transcends boundaries. From traditional cask ales presented well, to the most wacky of craft beers with adjuncts aplenty, if it's beer produced for beer's sake, we're here for it. And our spaces are inclusive, welcoming spaces for all backgrounds and beliefs of patron: So long as they abide by our one simple rule: Don't be a dick.
We're also inclusive of other drinks! Too many craft venues turn their nose up at a wine drinker. To do so is to risk losing the group. We pride ourselves on not only having the best beer selection in Berkshire, but also of catering well to wine, cider, spirit and AF drinkers.
Craft Beer For All.
Available immediately.
About You
First and foremost, we are known for knowing our beer. We are an outlet providing the very best of local, national and international beer to our community. Beer must be your passion. Whatever your current level of knowledge [training and certification is provided], you need to want to know more. This goes right up to our co-owners and is expected of everyone.
Your responsibilities would include (but naturally not be limited to):
• Serve customers
• Restock fridges
• Pick web orders
• Clean and manage the bar according to our standard operating procedures
• Change kegs and manage the cellar
• Plan-ahead on beer orders, working with all the staff to keep your tap wall exciting and engaging.
• Assisting the general manager with opening and closing
• Social media advocacy
• Travel between both sites (7 miles apart, with train links and an easy drive if you have a (not required) license) as shifts will be in both locations (with your preference on a 'main site')
• And most importantly: Chat with our regulars, become 'one of the team' and grow
with us.
We'd love, to a large degree, you to become "one of our friendship group" – we are working together to build a company we all want to be a part of.
Job Specification. We are
• Three time consecutive pub of the year in Windsor and Maidenhead
• Three time winner of the prestigious SIBA craft beer retailer of the year award
• A female-led business, with a clear code of conduct, a part of the everyone welcome initiative and proudly inclusive of everyone, always.
• Purveyors of the very, very best UK craft beer – as nationally recognised.
• A family-owned business, now 7 employees strong and continuing to grow since our start in August 2019.
• Sibling company to brand new brewery INDIE RABBLE, with the opportunity to get shifts there also.
• Beer allowance and heavily discounted beer to all staff
• Optional training via the Cicerone programme
• Experienced in hospitality OR craft beer (we can patch one side or the other, offer good training and are friendly faces)
• Keen to work as part of a team
• Able to stay with us for the medium to long term – we like to build our teams out and ideally, this wouldn't just be a 1-3 month thing. Although, at the moment – we're short for Christmas and needs must! Ask and let's find out.
• Web literate, as part of the job involves processing web orders, and working with multiple till systems
• With a right to work via PAYE in the United Kingdom, or registered as a sole trader / limited company and able to invoice us for your shift time
Thanks for your consideration!
To apply, email beer@ahoppyplace.co.uk