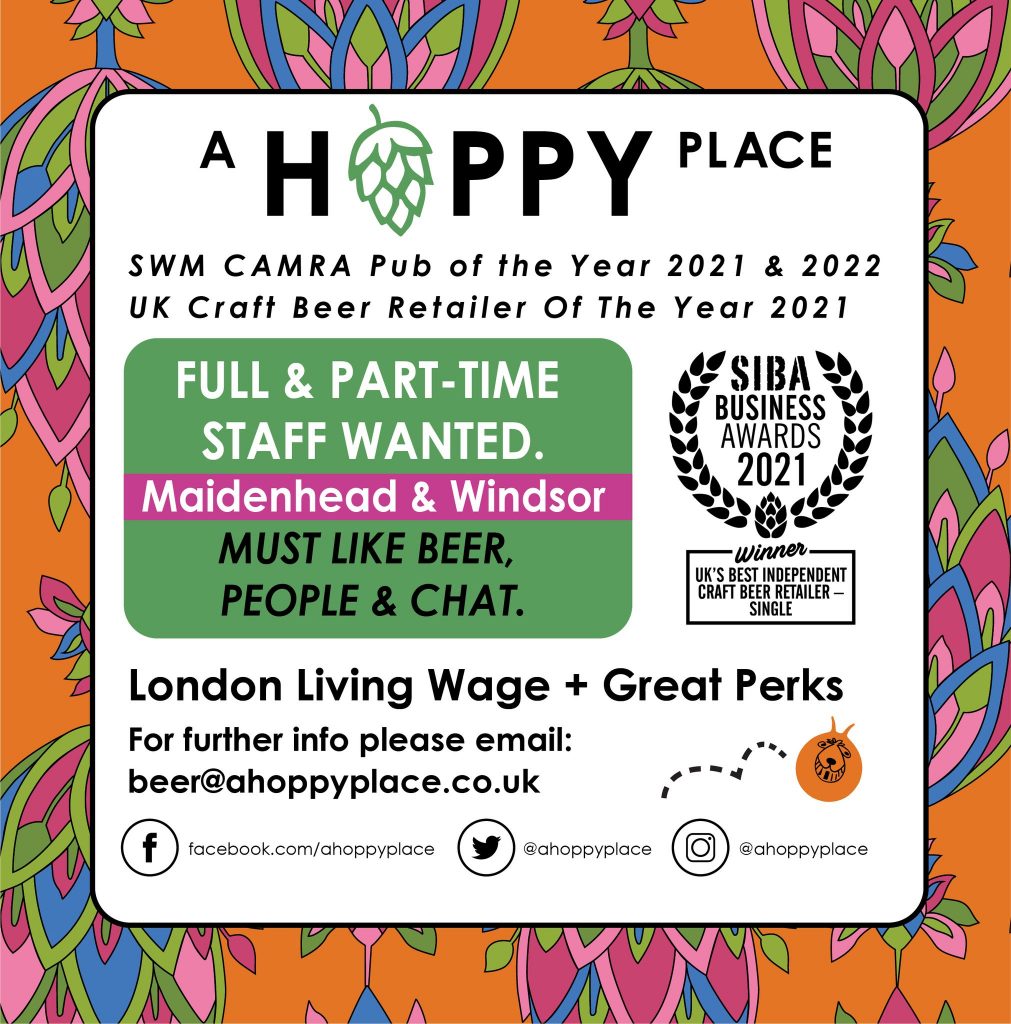 Join our small passionate team as a full time assistant manager (or part time shift worker) and:
*Learn about craft beer, brewing, and dispense
*Meet loads of likeminded friends in our Windsor and new Maidenhead bottleshop and taprooms
*Earn the London Living wage or more, depending on experience
Applicants do not need to be beer experts, just willing to learn and with the right attitude.
Join us on the next step of our exciting journey as a business
FULL DETAILS BELOW
Apply now:
Full Role Description
A Hoppy Place are hiring TWO full time assistant managers to supplement the staff at our Windsor and new Maidenhead locations, in addition to two part-time shift workers.
About us
A Hoppy Place are a three year old craft beer bottleshop and taproom based in Windsor, Berkshire who are now expanding into Maidenhead.
We are twice CAMRA pub of the year for Slough, Windsor and Maidenhead as well as SIBA (The Society of Independent Brewers, who represent nearly 100 of the most craft forward UK breweries) Craft Beer Retailer of the Year for 2019.
We founded in 2019 with the goal to make our passion our career, and this hiring is the next step in a business plan to see us with multiple sites, with a target of 4+ sites and beyond.
We are looking to add to our family of staff, and ideally we are hiring for a career with huge scope for personal development as we grow our business.
We are looking to hire two permanent assistant managers (full time) to join our team, alongside two more shift workers (part time).
For us, beer transcends boundaries. From traditional cask ales presented well, to the most wacky of craft beers with adjuncts aplenty, if it's beer produced for beer's sake, we're here for it. And our spaces are inclusive, welcoming spaces for all backgrounds and beliefs of patron: So long as they abide by our one simple rule: Don't be a dick.
We're also inclusive of other drinks! Too many craft venues turn their nose up at a wine drinker. To do so is to risk losing the group. We pride ourselves on not only having the best beer selection in Berkshire, but also of catering well to wine, cider, spirit and AF drinkers.
Craft Beer For All.
Available immediately.
About You
First and foremost, we are known for knowing our beer. We are an outlet providing the very best of local, national and international beer to our community. Beer must be your passion. Whatever your current level of knowledge [training and certification is provided], you need to want to know more. This goes right up to our co-owners and is expected of everyone.
Your responsibilities would include (but naturally not be limited to):
• Serve customers
• Restock fridges
• Pick web orders
• Clean and manage the bar according to our standard operating procedures
• Change kegs and manage the cellar
• Plan-ahead on beer orders, working with all the staff to keep your tap wall exciting and engaging.
• Assisting the general manager with opening and closing
• Social media advocacy
• Travel between both sites (7 miles apart, with train links and an easy drive if you have a (not required) license) as shifts will be in both locations (with your preference on a 'main site')

• And most importantly: Chat with our regulars, become 'one of the team' and grow
with us.
We'd love, to a large degree, you to become "one of our friendship group" – we are working together to build a company we all want to be a part of.
About the package
We believe in investing in our staff, and our people, to make our bar a positive – inclusive, happy space. Exhausted staff are bad staff. This industry can and should do better. We offer our full time staff:
• 4.5 working days per week
• One guaranteed weekend off per month
• London living wage as a minimum, dependent on experience
• Extremely generous personal beer allowance
• Paid lunch break
• Contractual Sick Pay
• 28 days paid holiday
• NEST pension scheme once probation is passed successfully
• Our full support and hearty recommendation to join Unite Hospitality, or similar union
• Paid training, such as Cicerone Certified Beer Server, on a case-by-case basis.
• The opportunity for promotion to future GM, with roles in Sales and Marketing also likely available in future
• Yearly salary reviews,
We do also offer our part time applicants (who would be on a zero-hour contract) a guaranteed minimum hours per month, and the potential to become a full time staff member in future.

Thanks for your consideration!