Description
CRAFT BEER 'BLIND TASTING'. A Sommelier led tasting session with Roberto Ross of Cult of Oak and Dave Hayward of A Hoppy Place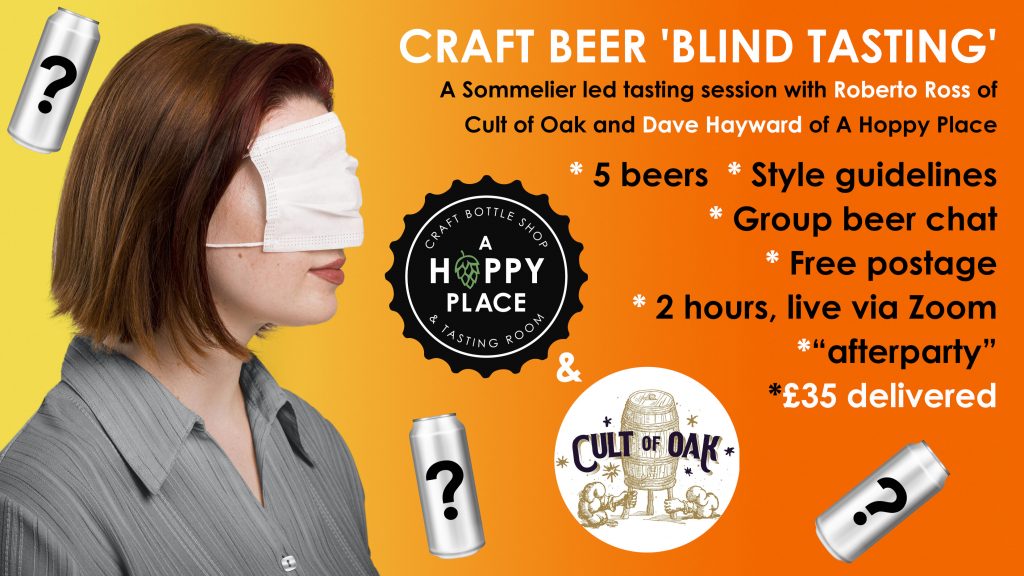 Saturday, February 27th: 19:30.
PREORDER. BOXES DISPATCH 23RD/24TH FEBRUARY.
Want to learn what a beer sommelier goes through to get their pinbadge? The crux of it all is a 16 beer blind tasting. Pick out the style, one by one.  It might be the carbonation, the colour, the aroma, a hop or malt foward flavour, it being fruity rather than spicey, or something much more nuanced. But knowing your NEIPA from your West Coast, your ESB from your Mild, your Baltic Porter from your export stout and your Hefeweizen from your Belgian Wit is a challenge that can only be accomplished through practise.
Fortunately, it's rather good fun to practise!
So join us for an evening of blind tasting, and experience 'blind tasting under pressure' for yourself!
5 beers, wrapped up and anonymised. What's in the container? Who knows! Can you work it out?
Style guidelines included for the beers we're having, plus some red herrings! Which one are we drinking now?
A chance to chat through as a group each beer, what you all get from it, do we like it or not like it, can anyone take a guess at what it is?
Free postage
2 hours, live via Zoom, with an open pub session after for those that want to stick around.
Cheers!
use code 'craftbeertasting' to qualify for FREE DELIVERY with this product